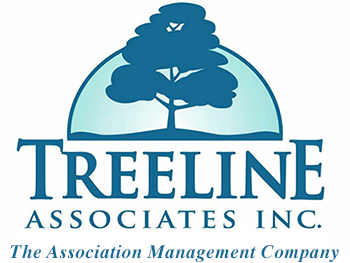 The Treeline team of experts offer their best advice, research, how-tos, and insights - all in the name of helping organizations grow!
AFP DETROIT HAD ITS FIRST IN-PERSON EVENT ON AUGUST 18, 2021!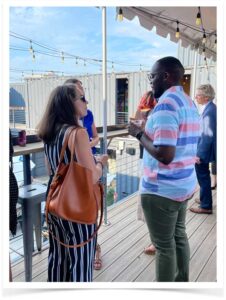 After 18 months of meeting over Zoom, AFP Detroit had its first in-person event on August 18, 2021! Members and non-members gathered at the Detroit Shipping Company for the Black Philanthropy Month Networking Celebration & Meetup where they enjoyed food, drinks, and networking with their peers in person. Conversations flowed as if no time had passed, people who had only ever met via Zoom were finally able to meet in person, and as attendees slowly left (it was such a great night it lasted well past the end time!) they expressed over and over again how happy they were to see everyone and how they felt recharged after months of limited conversations.

---
TREELINE ASSOCIATES IS HIRING A NONPROFIT & TAX ACCOUNTING MANAGER
Treeline Associates & Your Business Champion is hiring a 3/4 time work-from-home Nonprofit Accounting Manager to start immediately! If you are looking for a position with a fantastic, family-friendly environment, flex-time, and which allows you to work independently (but still feel part of a team), this position may be right for you!
This position is a Senior Consultant who specializes in Non-Profit Accounting and Taxes. The assistant will have some ongoing recurring tasks but the individual filling this position must be open to completing random tasks as assigned. We are looking for some who is organized, very comfortable with technology, and a quick learner with great attention to detail.
---
TREELINE ASSOCIATES IS HIRING AN EVENT PLANNER!
Treeline Associates is seeking an experienced Event Planner to serve on its event team.
The event planner is responsible for planning and executing flawless conferences, education programs, webinars, meetings, and special events for a professional trade association. They work with and lead volunteers, conference planning committees, and other staff members.
Our ideal candidate thrives in a fast-paced environment, can take on new challenges, brings new and creative event ideas, and can juggle multiple tasks on time and within budget. The events planner overcomes obstacles with unflappable professionalism.
---
VIRTUAL PLANNER OF THE YEAR: SARAH DYSINGER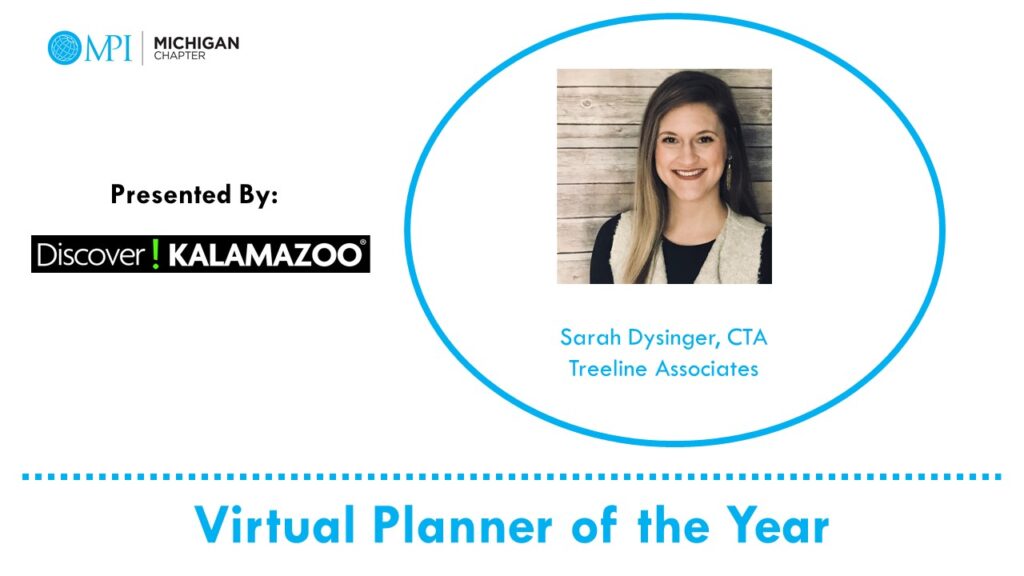 Meeting Professionals International (MPI) is the largest meeting and event industry association worldwide. MPI has a global community of 60,000 meeting and event professionals, including nearly 14,000 engaged members.
The MPI Michigan Chapter, which delivers high-quality education, leadership training, scholarships, and professional development to its members, recently hosted their annual year-end award festivities, Celebration! on June 2nd. 
---
TREELINE ASSOCIATES APRIL EMPLOYEE OF THE MONTH - NICOLE SMITH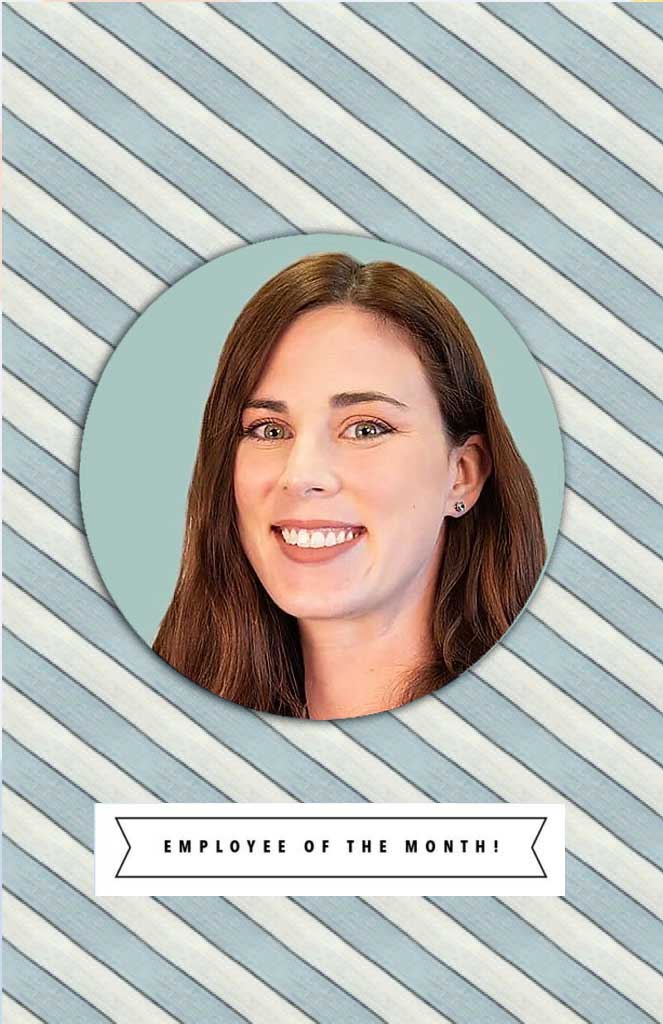 Nicole is one of our Event and Association Managers. She currently serves as the Executive Director of the Association of Corporate Counsel of Michigan (ACC MI), Membership Manager and Conference Assistant for the Travel and Tourism Research Association (TTRA), and has worked with association and event management for the Association of Fundraising Professionals of Greater Detroit and Govern for Impact. Nicole offers expertise in event management, association management, member relations and engagement, creative planning, and troubleshooting.
CONGRATULATIONS NICOLE!
---
I'M A CRAFTER – AND PROUD OF IT!



I would say I have had a successful career. But being successful at work isn't who I am. In my heart of hearts, I am a crafter. Any type of crafting, I'm in! I love to be creative.
Anyone can have a job that makes them feel fulfilled, but what feeds your soul? What do you want to be remembered for? I don't want people to say – Kathy was a great employee! Wow, she did a great job managing that client! Nope, not for me. Yes, I want to be remembered as a good parent. That is the number one thing that is important to me. But I also want to leave a legacy of things for my children and grandchildren. Things they can look back on and remember that I made for them.
---
TREELINE ASSOCIATES MARCH EMPLOYEE OF THE MONTH - ELIZABETH PIKE, CMP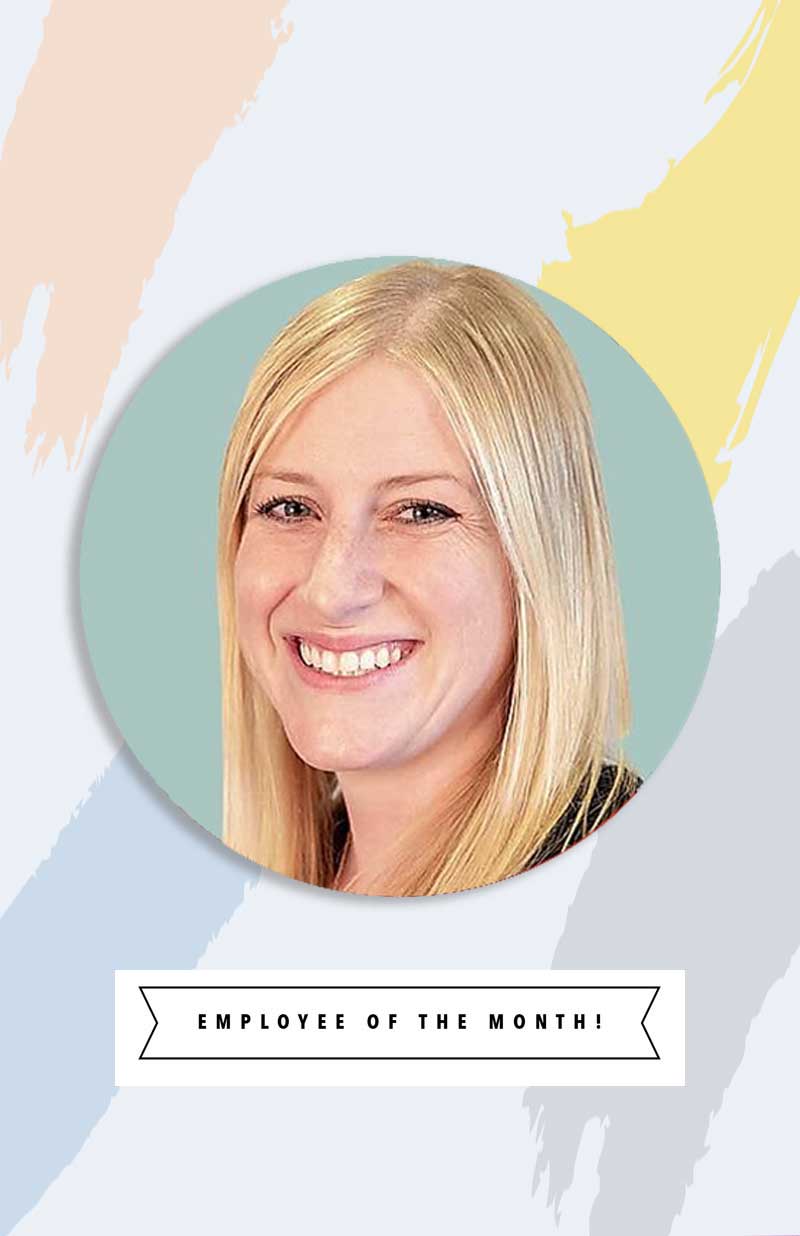 Elizabeth is a Senior Consultant in Association & Event Services with Treeline. She has extensive experience in event planning and received two Michigan EPIC Awards as an event professional. She has also worked for several non-profit organizations in administration, fundraising, and helping to coordinate volunteers. Elizabeth is a member of Meeting Professionals International.
CONGRATULATIONS ELIZABETH!
---
When The World Changed: A Meeting Planners Perspective

March 10, 2020. I woke up at 4 AM, got in my car, and headed to what would be my last face-to-face event for over a year. The Association of Fundraising Professionals Greater Detroit Chapter (AFP GDC) was hosting the "2020 Michigan Fundraising Climate Results" in partnership with The War Memorial. It was a small, quiet event with press and media coverage. I kept hearing "coronavirus" and "Michigan will be shutting down" throughout conversations, but I brushed it off as nothing. I had a year of events ahead of me – the thought of that all stopping was the last thing on my mind. I was focused on my next event, the Michigan Society of Healthcare Risk Management's Spring Program, scheduled for March 17.
---
I SURVIVED COVID-19... AND I MAY NEED THE T-SHIRT!

Since the pandemic started in March 2020, my husband and I have been very cautious.  We are in "that" demographic now where the virus has a greater impact on older people (boy, that is hard to type!).  We order our groceries delivered, don't go to restaurants, wear masks whenever we go out – you know, the typical CDC guidelines we've all been hearing about and following for the past year.
---
TREELINE ASSOCIATES FEBRUARY EMPLOYEE OF THE MONTH - LORI POOLE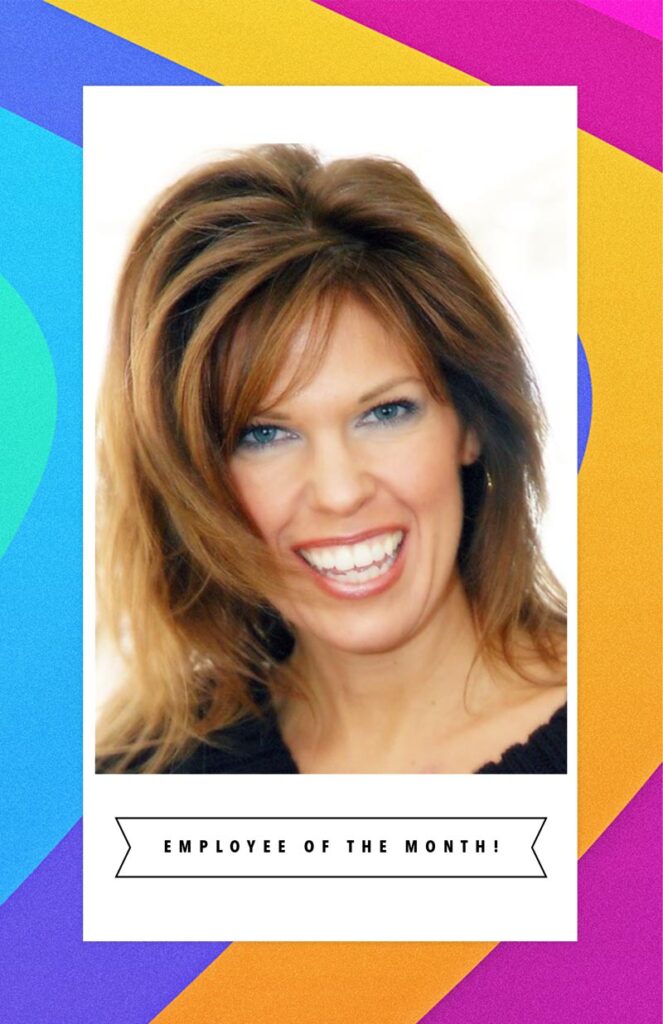 Lori is an Association Services Senior Consultant who is positive about every aspect of life. A voracious reader, she also watches quite a lot of TV. She loves the beach - really, it's a bit of an obsession; every day should be a beachy summer day! She enjoys trying different kinds of food & trying new recipes, sometimes with mixed results. She has recently started refinishing furniture. Loves shoes, enjoying time with friends & family, meeting new people, learning new things & laughing.
CONGRATULATIONS LORI!
---
TREELINE ASSOCIATES JANUARY EMPLOYEE OF THE MONTH - SARAH DYSINGER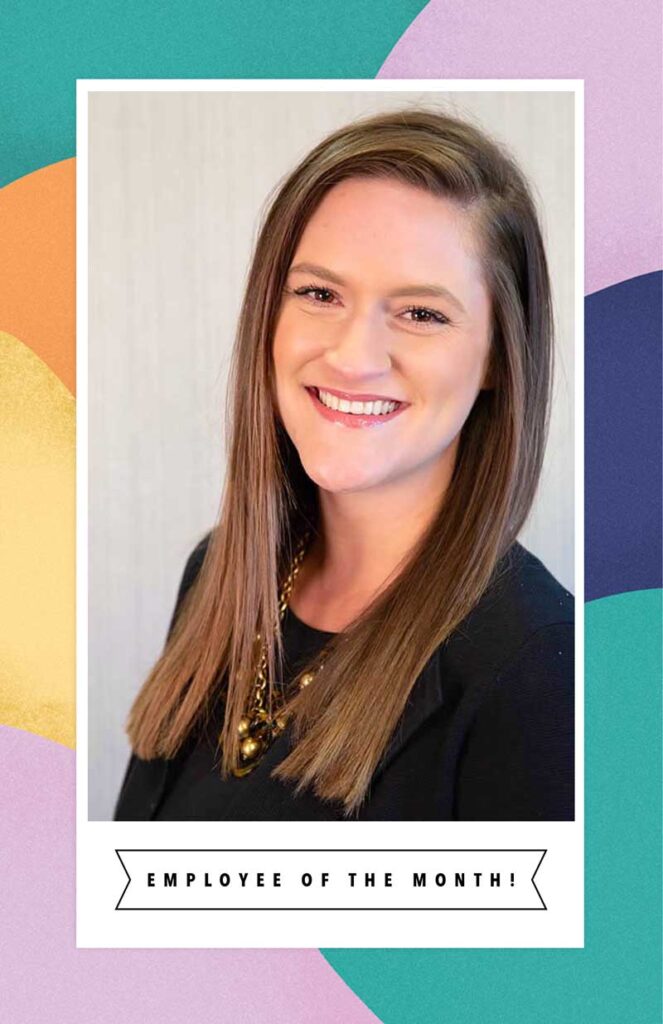 Sarah is an Event Services Consultant with over 10 years of experience in Event Management including the Boston Marathon, the Country Music Awards Festival, Gus Macker tournaments, and Michigan State University's Grandparents Day. She is currently the Events Manager for the Association of Fundraising Professionals Greater Detroit Chapter and the Michigan Society of Healthcare Risk Management where she plans and executes a variety of events including a multi-day education conference that awards continuing education credits, social and networking events to promote member engagement, and an annual celebration for National Philanthropy Day that brings in over 600 attendees.

CONGRATULATIONS SARAH!
---
BECOMING A CERTIFIED MEETING PROFESSIONAL (CMP)
If you've come across this post, chances are we have something in common – an interest in becoming a Certified Meeting Professional (CMP). I can proudly say after October 13, 2020, I officially passed the CMP exam and was able to check a long-running goal off my list (and I couldn't have been more relieved). My husband will tell you he has never seen me run up the basement stairs to tell him something as fast as I did when I saw that little green "pass" window appear on my screen. (I even forgot to disconnect from my remote proctor before I did!!) But let me tell you, the path to becoming a CMP is not an easy one.
---
TIPS & TECHNIQUES FOR RUNNING A VIRTUAL/HYBRID CONFERENCE
Many of these tips and techniques assume that you are using video conference technology (such as Zoom Meeting or Crowdcast) and/or a virtual conference platform. From planning, preparation, management, technology, engagement and backup plans, check out this list of tips and techniques for running a virtual/hybrid conference from the Treeline team.
---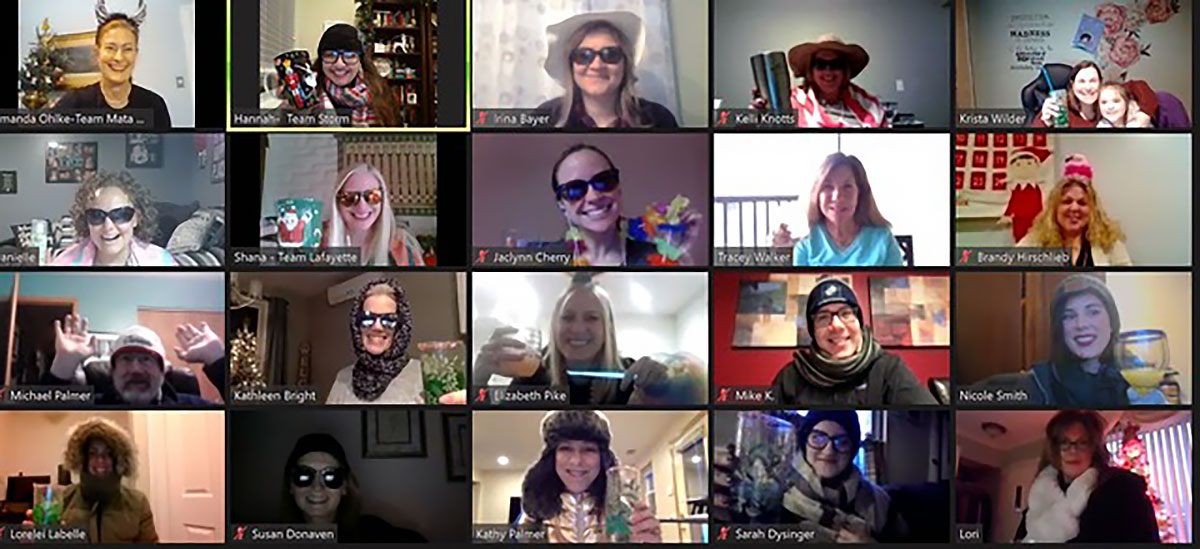 TREELINE VIRTUAL HOLIDAY PARTY
The team at Treeline held a Virtual Holiday Party with a visit to the International Spy Museum in Washington DC. Turns out Danielle Brown, Irina Bayer, Jaclynn Cherry, Kelli Knotts, and Krista Wilder are the best spies in the bunch! Each person on the winning team will receive a Death at the Dive Bar game so they can continue their spying! Happy Holidays from the Treeline Team!
---
Factors Affecting the Cost of a Virtual and Hybrid Conference
With a hybrid conference, you put on a face-to-face (F2F) event and then provide a virtual component. The first thing you need to do to create a virtual conference or the virtual component of a conference is to determine what kind of participant experience you want. The key to success is to find ways to get virtual participants engaged. In general, the more virtual engagement you provide, the more the conference costs.
Are you looking for an association management company that will help your organization grow and allow you to focus on what you do best?
We would love to hear from you.
Contact:
Canada Office:
Treeline Associates, Inc.
1568 Merivale Road, Suite 739
Nepean, Ontario K2G 5Y7
Phone: +1 (343) 306-4464
Inquiries: info@treelineassociates.ca
USA Office:
Treeline Associates, Inc.
2206 Village West Drive South
Lapeer, Michigan 48446
Phone: +1 (248) 814-7151
Inquiries: info@treelineassociates.com